Dr. Eisen is a certified Invisalign and Spark provider and was one of the first orthodontists in the Chicagoland area trained in clear aligner techniques.
While clear aligners aren't appropriate for all patients and problems, they have helped thousands of people achieve beautiful, straight teeth — without braces. A complimentary examination with Dr. Eisen can determine if Invisalign or Spark is right for you.
How do clear aligners work?
Invisalign and Spark use a series of invisible, removable, and comfortable aligners that no one can tell you're wearing. Clear aligners are made with 3-D computer imaging technology. Each set of aligners are worn for about 1-2 weeks, removing them only to eat, drink, brush and floss. As you replace each aligner with the next in the series, your teeth will move — little by little, week by week — until they have straightened to the final position Dr. Eisen has prescribed.
What are the benefits of clear aligners?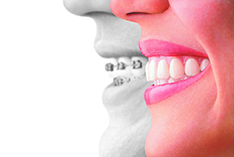 Not only are clear aligners close to invisible, but they are also removable, so you can eat and drink what you want while in treatment. The aligners are comfortable and achieve orthodontic movement without wires. Invisalign and Spark also allow you to view your own virtual treatment plan so you can see how your straight teeth will look when your treatment is complete. And best of all, they are completed using our impressionless intra-oral digital scanning system!